Welcome to Brunei Darussalam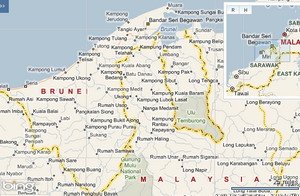 Brunei, officially the State of Brunei Darussalam or the Abode of Peace (Malay: Negara Brunei Darussalam), is a country located on the north coast of the island of Borneo, in Southeast Asia. Apart from its coastline with the South China Sea it is completely surrounded by the state of Sarawak, Malaysia, and in fact it is separated into two parts by Limbang, which is part of Sarawak.
Brunei regained its independence from the United Kingdom on 1 January 1984 and is a member of the Commonwealth of Nations. During the early 20th century, the Southeast Asian nation experienced an economic boom and underwent rapid development. Economic growth during the 1970s and 1990s, averaging 56% from 1999 to 2008, has transformed Brunei Darussalam into a newly industrialised country.