Jewels befitting a Royal Bride's stature
By Jon Tampoi
Photo: Info Dept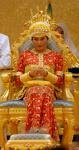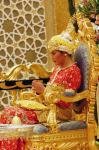 The "Sanggul Lintang Brunei" is a paired set of jewellery, composed of several loose pieces inspired by the precious items worn by kings and queens of the past, which is worn by both the bride and groom. In the past, brides wore the Sanggul Lintang Brunei during the Bersanding ceremony.
The Sanggul Lintang Brunei reflects influences from various South-east Asian cultures, and was initially worn by Bruneian aristocrats. But with the availability of industrial innovations, imitation pieces could be made easily and the use of such accessories became widespread around the 1980s.
The best metal for creating these magnificent pieces is "Emas Brunei", which is a light and durable alloy of mostly 18-carat gold. Gold leaf is then added to increase the lustre of the metal and the accessories are studded with precious gems to enhance their beauty.
The wearing of Sanggul Lintang Brunei begins with the placement of the "Sarbang" onto the bride's forehead and the "Gegatar" on her nape. The bride's hair is then arranged so that it forms a shape likened to a "pandan core". The rest of the items, "Tajok", "Ayam-ayam" and "Karang Tambusa Berpuput Amas", are carefully arranged in the bride's hair before fragrant jasmine flowers are used to anchor the hairstyle. "Sisir Malur" is then placed beneath the Ayam-ayam, and more jasmine flowers are added in order to support the circlet of "Bunga Goyang".
The "Mudapun" is worn around the bride's neck, and her arms are decorated with "Sindat" and "Galang Pengaluan". The bangles are hollow and filled with little bell-like items that tinkle with every movement, and are tied in a "Burangka" or "Rangkai" pattern.In the past, the Pengiran would wear 11 on each wrist, while others would choose to wear nine.
The outfit is a "Baju Kurong Singkat", which is a short dress that is wrapped with "Kain Kapit" made of exquisite Jong Sarat fabric. Holding the Kain Kapit together is a gold belt and buckle known as "Panding" and "Kepala Panding". Completing the ensemble is a pair of hollow metal anklets called "Galang Geruncong", which are similar to the Galang Pengaluan, as they also make tinkling sounds with movement. - Borneo Bulletin (10th June 2007)