Royal Wedding in June
By Azlan Othman
Photo: Info Dept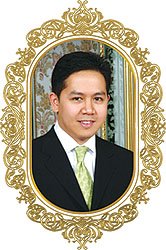 The nation will be in a celebratory mood in the next two weeks for the joyful event of the Royal Wedding of the daughter of His Majesty the Sultan and Yang Di-Pertuan of Brunei Darussalam, Her Royal Highness Princess Hajah Majeedah Nuurul Bulqiah and YM Pengiran Khairul Khalil bin Pengiran Syed Hj Jaafari.
The ceremonies steeped in Brunei royal custom will take place in four venues, namely at the Istana Nurul Iman, Darul Karamah, which is the groom's residence in Beribi, Sultan Omar Ali Saifuddien mosque, as well as the Lapau ceremonial hall in the capital.
It will begin with "Istiadat Bersuruh Diraja" (proposal of marriage) ceremony on June 1 followed by "Istiadat Membuka Gendang Jaga-Jaga" on Saturday, June 2 to formally herald the start of celebrations of the royal wedding and the start of performances of royal court musicians.
It is only after this ceremony that the dates for subsequent customs and ceremonies related to the royal wedding will be fixed.
"Istiadat Menghantar Tanda Diraja" (bringing of articles) will be on June 3 and "Istiadat Menghantar Pertunangan Diraja" (engagement) on June 4.
"Istiadat Berbedak Pengantin Diraja" (applying powder paste) is scheduled for June 5 while "Istiadat Akad Nikah Diraja" (solemnisation of marriage vows) will be held on June 7.
"Istiadat Berinai Diraja" (applying henna paste) will be on June 9 and "Istiadat Persandingan Diraja" (sitting-in-state ceremony) which is the climax, will be held on June 10 followed by a procession around the town area.
"Majlis Istiadat Persantapan Diraja" (royal banquet) will be held on the evening of June 11 and "Istiadat Pengantin Diraja Mulih Tiga Hari" (a ceremony held three days after the wedding) on June 13. "Istiadat Menutup Gendang Jaga-Jaga" on June 14 will officially mark the end of two-week-long events.
Meanwhile, the Information Department as the Committee on Information and Communication informed yesterday that the media centre and media secretariat for the royal wedding is now open. - Borneo Bulletin (31st May 2007)