Details on ornaments used in Royal Wedding ceremony
Photo: Info Dept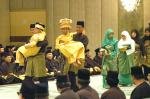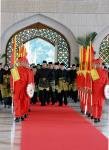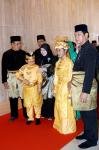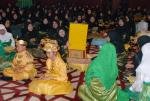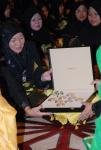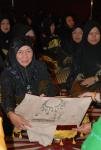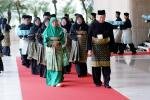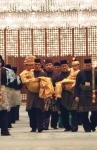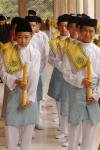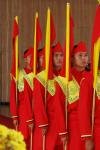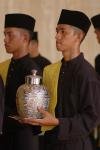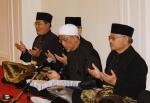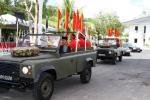 The Royal Wedding that takes place on Sunday is full of regal ceremonies. It shows the finest points, beauty and uniqueness of Brunei Darussalam's Royal Customs and Traditions, as a national heritage. RTB News takes a closer look at these for it's only during such ceremonies that people can see or witness the regalias and other decorative items. For example, the Tanda DiRaja in the Istiadat Perkahwinan Diraja comprises a young girl dressed in traditional costume wearing bangles called 'Gelang Pengaluan', 'Gelang Geroncong', 'Subang' 0r Earings and 'Bunga Serondoh'. This is a symbol of engagement gifts from the Bridegroom.
It is unlike the 'Pertunangan Diraja', where two children are brought as the symbolic gifts. In this ceremony, the girl wears 'Gelang Pengaluan', 'Gelang Geroncong', 'Kancing' and 'Puntu Azimat'. She also wears a headdress called 'Jamang' and 'Berpanding' without blouse, rubbed upon yellow hem serrated like a haircomb. The boy dressed in traditional attire symbolises the 'Pemutus Tali Jintong'.
Regalia items of interest include various gifts or 'Bawa-bawaan' in the 'Gangsa Bawa-bawaan' or bronze or silver receptacles brought by an entourage from the Bridegroom. The 'Gangsa' in the Istiadat Tanda Diraja contain a pair of clothes, a pair of bangles, a pair of earings and rings called 'Cincin Dua Belah Jari'.
Also unlike gifts brought for the Istiadat Pertunangan Diraja, the 'Gangsa Bawa-bawaan' contain 'Surat Mahar' or 'Berian' or Letter of Dowry, apart from gifts consisting a set of clothes, one 'Gangsa' each for bangles, earings, rings called 'Cincin Dua Belah Jari', 'Ceramai', 'Kelakati' or betel nut cutter and Knife.
Other ceremonial items used during the Royal Wedding Ceremony are the 'Dian' or Candles and 'Bintang Petian' or the Petian Box which are often placed in front of Pengiran-Pengiran Cheteria, Pehin-Pehin Manteri and other guests whose status make them eligible for such ceremonies.
40 'Janar' or pieces of clothes draped over the shoulders and worn by forty 40 'Awang-Awang' or ceremonial youths.
Also brought to the fore were 'Dian Enam Belas' or Sixteen Candles carried by as many 'Awang-Awang'. They are dressed uniform while accompanying the 'Menghantar Tanda Diraja and Pertunangan Diraja' delegations.
Other ornaments to be seen during the Royal Ceremonies that have taken place over the past few days are 12 'Sinipit' or spears carried by the same number of 'Awang-Awang', 8 swords and shields, 8 'Tumbak Benderangan', another type of spear, and 4 'Kabok' and 'Panastan' or Silver Water Vases.
All these colourful regalias, no doubt add to the liveliness of the Royal Wedding Festivities between His Majesty's daughter, Her Royal Highness Princess Hajah Majeedah Nuurul Bulqiah and Yang Mulia Pengiran Khairul Khalil bin Pengiran Syed Haji Jaafari. More royal regalias will be witnessed in upcoming ceremonies, through to the end of the Royal Wedding celebration period. (7th June 2007)